The Service
Our main service is the restoration and mounting of medals for wear or for a lasting bespoke display.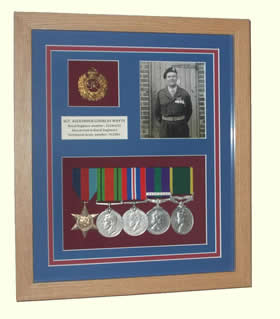 All frames are bespoke and we work with you on the design and colours.
We also supply regimental blazer badges, hand embroidered crests, club crests, city and surname crests, poppies, etc
Meet the team
At Honours and Awards, Angela and Tony Kirk offer a personal service and have a deep respect for all military and historical matters.
Angela has many years experience in Art and Design, and Tony, a member of The Western Front Association, is a collector of military items especially medals to the First World War and has always been interested in Military History.
Contact Us
Please contact us to discuss your specific requirements. We will provide you with a written quote for the work to be commissioned.