Crest and Cap Badges
Blazer badges make an extremely attractive and memorable record of service and can be mounted in a frame set against background colours of red, green, black or navy blue. The completed frame size is approximately 30cm x 30cm.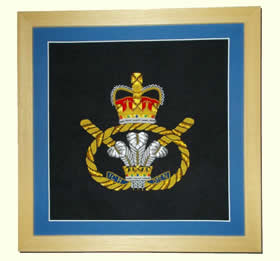 Cap Badges
Cap badges are normally one of the most treasured possessions of ex-servicemen and women of the armed services and uniformed civilian services such as the Police, Fire, Ambulance Services. They make an attractive, memorable and nostalgic record of each individual's service. Presented in much the same way as the blazer badge, the completed frame size is approximately 15cm x 15 cm.
| Order Code / Badge | Price |
| --- | --- |
| BB1 - Blazer Badge supplied by us | £40 |
| BB2 - Customer's own blazer badge | £25 |
| CB1 - Cap Badge supplied by us | £30 |
| CB2 - Cap Badge supplied by customer | £25 |
Add £10.00 for engraved brass style dedication plate or script.
The ideal gift
The ideal gift for the man who has everything. Please contact us to discuss your specific requirements. We will provide you with a written quote for the work to be commissioned.